希捷 Seagate 3.5吋 SATA 硬碟 故障*2
故障的時間點剛好落在於3-5年間
上希捷官網查詢是否還在保固期的動作
紅色的地方為需要使用到的資訊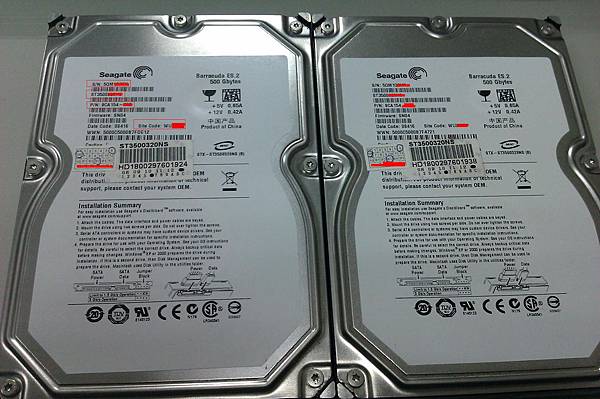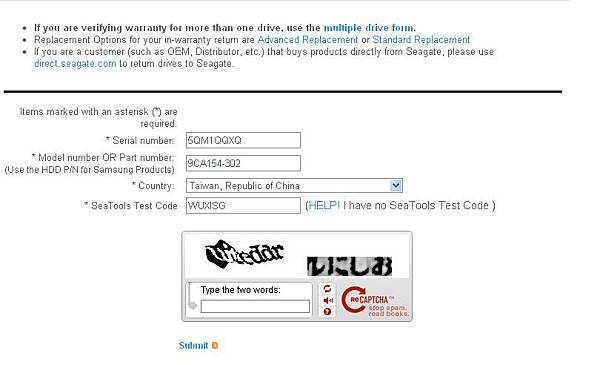 表單送出成功後的訊息
End User
Serial Number

Seagate Part Number

Warranty Status


(*see details below)

Options


(*see details below)

5QM1QQXQ
9CA154-302
In Warranty


Expiration 07-May-2013

In Warranty


Please contact Taiwan Aries or Synnex Technology Intl Corp

*Warranty Status & *Options
In Warranty


This drive is covered by a Seagate warranty.


If the drive is defective, it may be returned for exchange. You will not receive your original drive in return. Please do not return a healthy drive. Seagate reserves the right to return a good drive back to its owner and to charge for all associated shipping costs.

Test with SeaTools to verify the drive is failing and save the SeaTools Test Code result number to validate the drive failed SeaTools testing.


Please back up all data before returning the drive.


Please return all accessories that were included with your product.


To return defective accessories within the listed warranty period, please contact Customer Service for details.



For Seagate drives, please contact one of the following authorized distributors in Taiwan, Republic of China , as listed in above Warranty Validation option.




聯強直營維修中心
联强維修服務專綫: (02) 2508 0055, 分機9
地 址
營業時間
基隆市中正區信四路8號
週一至週五 11:00-19:00
台北市中山區復興北路478號1樓
週一至週五 11:00-19:00
台北市中正區八德路一段34號2樓-彩虹3C樓上
週一至週六 11:00-19:00
新北市三重區三和路三段82號
週一至週五 11:00-19:00
新北市板橋區民族路75號1樓
週一至週五 11:00-19:00
新竹市四維路130號10F之2
週一至週五 11:00-19:00
桃園縣中壢市中正路389號3樓 319櫃位-NOVA樓上
週一至週五 11:00-19:00
桃園市中華路98號1樓
週一至週五 11:00-19:00
宜蘭縣羅東鎮公正路179號
週一至週五 11:00-19:00
台中市西區美村路一段226號
週一至週六 11:00-19:00
嘉義市西區民族路501號1樓
週一至週五 11:00-19:00
台南市中西區民權路一段175號1樓
週一至週五 11:00-19:00
高雄市前鎮區二聖一路290號12F之2
週一至週五 09:00-18:00
高雄市三民區建國二路224號
週一至週六 11:00-19:00
屏東市民族路217號
週一至週五 11:00-19:00
台灣亞銳士維修中心
地 址
修服務專綫 / 營業時間
台北總公司 台北市信義區信義路五段 150 巷 2 號 16 樓之 3
維修服務專綫: 02-2345-6622, 分機311
週一至週五 09:00-18:00
台中服務處 台中市西區英才路510號3樓A07室
維修服務專綫: 04-2310-2277
週一至週五 09:00-18:00
高雄服務處 高雄市三民區建國二路36號12樓
維修服務專綫: 07-2351-518, 分機101
週一至週五 09:00-18:00





Effective from Nov 15, 2011, if you require warranty support and you reside in Taiwan, please contact the place where you purchased your drives. Please continue to submit warranty checking request to identify the original Seagate distributors in Taiwan.

Please contact Seagate call center (phone# 800666910/ 0026564852612) for any assistance required.

Tried SeaTools? If your drive is failing, SeaTools may be able to help you fix it without the time, expense, and risk of data loss associated with returning it.

Seagate Data Recovery Services
Seagate now offers best-in-class data recovery services for all formats and all brands of storage media from our labs in North America, Europe and Australia.